Russellville School District 2021 - 2022 Teacher of the Year Awards Presented
On May 19th, 2022 the Russellville School District presented the 2021-2022 Teacher of the Year Awards at the End of Year Recognition Celebration.
Each school year, every campus in the Russellville School District nominates a Teacher of the Year.
All 10 nominees were present at The Center for the Arts where Mrs. Vandy Moore was named the 2021-2022 District Teacher of the Year.
The RSD campus Teacher of the Year Awards are as follows:
Center Valley Elementary: Ashley Dickey
Crawford Elementary: Ashten Wynn
Dwight Elementary: Melanie Kelley
London Elementary: Kathy Steffy
Oakland Heights Elementary: Kara Wilson
Sequoyah Elementary: Vandy Moore
Russellville Intermediate School:Kay Dickey
Russellville Middle School: Tyler Daily
Russellville Junior High School: Jenny Wilkins
Russellville High School: Ethan Hodge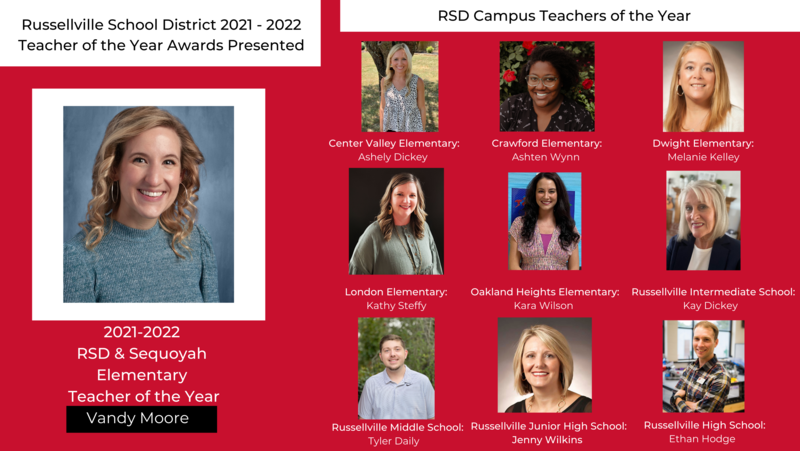 Congratulations to all of RSD's Teachers of the Year, and thank you to all RSD Teachers for your dedication to achieving excellence together!
To learn more about RSD, go to www.rsdk12.net
###