News

Join the Lady Cyclone Volleyball Team 10-17-19 in their support of Tonya Bloodworth's battle against Breast Cancer.Wear your DIG Pink 2019 t-shirt for free admission, wear...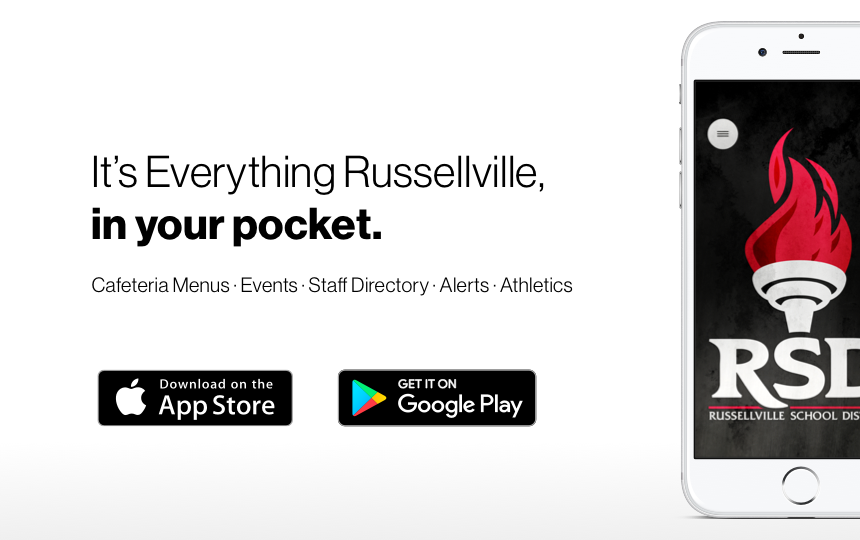 Be sure to download Russellville School District's app! It's everything Russellville, in your pocket. With the app, you can access sports scores, cafeteria menus, news...
SEE ALL NEWS
LIVE FEED

RIS
14 days ago
Congratulations to Adyn Ashander, our GEO Bee School Champion!
UE5G
14 days ago
RIS will present academic awards for the 2nd quarter on Jan. 16 (A&B) and Jan. 17 (C&D). Each assembly will begin at 9:00 a.m. in our cafeteria. We invite families to come celebrate with us!
UE5G
about 1 month ago
Tuesday, December 3rd, RIS will host a family STEAM Night. The Museum of Discovery will be here with tons of fun learning activities for our students. STEAM activities will be set up in our cafeteria from 6:30-8:00 p.m. You may enter from our back doors. See you then!
UE5G
about 1 month ago
You are invited to join us for a Christmas Luncheon on Tuesday, Dec. 10th at 12:10 p.m. Tickets for our luncheon are due back tomorrow. If you'll be bringing guests, please indicate the number of people attending. All fifth graders will eat lunch that day as normal.
UE5G
3 months ago
Tomorrow night is Game Night at Cyclone Stadium! Students who wish to escort the team onto the field should meet us inside the ticket booth at 6:30p.m. Student admission is free. All students must be accompanied by an adult.
SEE ALL POSTS