News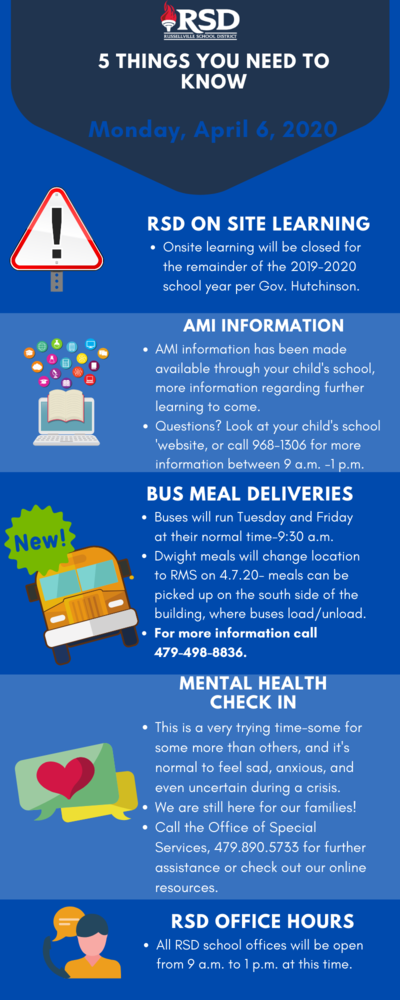 Good Monday afternoon RSD, here are Dr. Gotcher's 5 things you need to know for today: 1. Governor Hutchinson announced in his press conference this afternoon that all on...

Join the Lady Cyclone Volleyball Team 10-17-19 in their support of Tonya Bloodworth's battle against Breast Cancer.Wear your DIG Pink 2019 t-shirt for free admission, wear...
SEE ALL NEWS
LIVE FEED

RIS
22 days ago
You may access detailed information about your student's assigned time to pick up school items and turn in library books, laptops and chargers by checking your student's school email, the RIS Facebook page or the document section of our school website. Pick up times are assigned by homeroom. On Monday, May 18, math homerooms will pick up from 9 to 11 AM and science homerooms will pick up from 12 to 2 PM. On Wednesday, May 20, social studies homerooms will pick up from 9 to 11 AM. and ELA classrooms will pick up from 12 to 2 PM. Groups A/B will drive through the front drive off of W. 4th Pl. and Groups C&D will drive through the back drive of the building off of 8th Street. You will not leave your car. Your child's homeroom teacher will be waiting to hand you your bag of items and teachers will be on hand to collect school items that your child needs to turn in. We look forward to seeing you at your assigned time next week. Thank you.
Russellville School District
27 days ago
Directions for return and pick- up of student items found in our document section for Monday, May 18, and Wednesday, May 20th.

RIS
about 1 month ago
Camp refunds will be available for pickup from the RIS front office on Wednesday, April 22nd between 2-6 p.m. if you paid by check, the check must be picked up by the person who signed it or whose name appears on the account.. At this time, students may not access the school. We are planning a later date when students will be able to collect personal items and turn in school property. Wednesday is for camp refunds only. We will send further information once a later date has been determined . Thank you for your understanding as we continue to do our best to ensure the safety and well-being of everyone.

RIS
about 1 month ago
Sign-ups for beginning band and choir are postponed indefinitely, and a new date will be announced at a later time. Thank you.

RIS
2 months ago
Fifth grade students can expect to find learning tasks starting Tuesday, 3-31-20, in Google Classroom. Students can log in with their school email and access their learning online. They can also contact their teachers through Google Classroom, Remind, or by email or phone if they have any questions. Students should keep their first week's AMI packet until they return to school. Thank you! Everyone, stay well!
SEE ALL POSTS